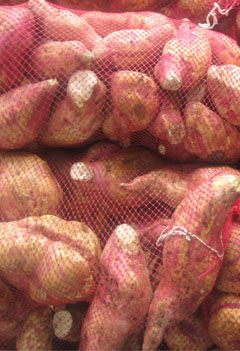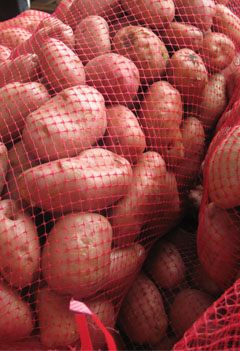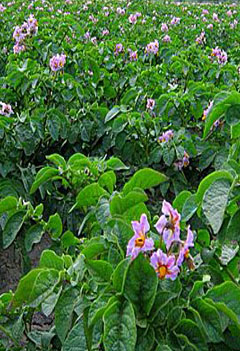 ---
Sweet potato
---
Origin is thought to be either in Central America or South America. Besides simple starches, sweet potatoes are rich in complex carbohydrates, dietary fiber, beta carotene (a vitamin A equivalent nutrient), vitamin C, and vitamin B6. Pink, yellow and green varieties are high in carotene, the precursor of vitamin A.
Potato
---
The potato was first domesticated in the region of modern-day southern Peru and extreme northwestern Bolivia. It has since spread around the world and become a staple crop in many countries.
The potato contains vitamins and minerals, as well as an assortment of phytochemicals, such as carotenoids and natural phenols. Chlorogenic acid constitutes up to 90% of the potato tuber natural phenols. Others found in potatoes are 4-O-caffeoylquinic acid (crypto-chlorogenic acid), 5-O-caffeoylquinic (neo-chlorogenic acid), 3,4-dicaffeoylquinic and 3,5-dicaffeoylquinic acids.A medium-size 150 g (5.3 oz) potato with the skin provides 27 mg of vitamin C (45% of the Daily Value (DV)), 620 mg of potassium (18% of DV), 0.2 mg vitamin B6 (10% of DV) and trace amounts of thiamin, riboflavin, folate, niacin, magnesium, phosphorus, iron, and zinc. The fiber content of a potato with skin (2 g) is equivalent to that of many whole grain breads, pastas, and cereals.
---
Our Potatoes are well selected and graded for best quality and customer satisfaction before being packaged with high quality nets
---
.